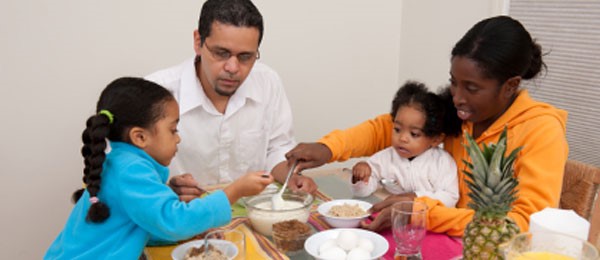 Primary risk factors for chronic disease come in the form of behavioural risk factors such as eating an unhealthy diet and physical inactivity. In combination with the background factors (age, sex, socioeconomic status and genetics) and intermediate conditions (high blood pressure, overweight and obesity), these behavioural risk factors work on a continuum to influence disease and ill health.1
While many background factors cannot be easily changed, public health is mandated to address behavioural risk factors and the resulting intermediate factors can be modified to reduce the risk of disease. Public health also works to reduce health inequities related to chronic diseases caused by factors such as education and income levels to ensure fair and just opportunity for good health for the whole population.2
Sufficient sleep, physical activity, reduced sedentary behaviour, healthy eating, reduced stress and appropriate protection against ultraviolet radiation (UVR) exposure from the sun and artificial sources (tanning beds) are all important behaviours to examine to understand the risk in the population for chronic disease outcomes. Other important behavioural risk factors such as consumption of alcohol and other drugs, including cannabis and tobacco, are detailed in the Substance Use section.
About half the population of Middlesex-London aged 12 and older met the guidelines for sleep, specific to their age, in 2015/16. About 40% of the population reported getting less sleep than the recommended guidelines; getting only 5 to 7 hours, on average, per night. One in five people experienced difficulty sleeping, such as trouble getting to sleep or staying asleep, and trouble staying awake when desired.
About two thirds of the Middlesex-London adult population were physically active according to national recommendations. However, a much lower percent of youth aged 12 to 17 were considered active; only about one in five. Half the population used active forms of transportation. Those living in urban areas used active transportation more often than rural populations. The percent of the population in lower income groups using active means of transportation was higher than in high income group. Sedentary behaviour occurs throughout the whole population, including in those who are physically active.
According to Canada's Food Guide, nutritious foods, like vegetables and fruit should be eaten regularly, as part of a healthy diet. About one third of the population of Middlesex-London consumed vegetables and fruit five or more times per day in 2015/16. Females were significantly more likely to consume vegetables and fruit five or more times per day than males.
About one quarter of the population aged 15 and older in Middlesex-London reported life as quite or extremely stressful. Rates were slightly higher for those aged 20 to 64, reporting most days at work were quite or extremely stressful.
In Middlesex-London, about one-third of the population aged 12 and older reported having a sunburn in 2017. About half of adults in Middlesex-London reported that they always or often avoid the sun between 11:00 a.m. and 4:00 p.m. when the sun's ultraviolet rays are at their strongest. Females were significantly more likely to avoid the avoid the sun during peak times.
In 2015/16, Middlesex-London had one of the lowest percentages of overweight and obese adults in Ontario (50%), with individuals over the age of 44 showing the highest rates (58.8%). A similar trend was seen in the adolescent population in Middlesex-London, who also had lower percentages of overweight and obesity in comparison to Ontario (19.3% vs. 23.6%, respectively).
In comparison to Ontario and the Peer Group, Middlesex-London residents (15+) reported higher percentages of sex before the age of 20, as well as having more than 2 sexual partners in the past 12 months. In 2015/16, residents in Middlesex-London also reported lower percentages of condom use, raising questions about the "risky" sexual behaviour in the region. Risky sexual behaviours, such as no condom use and more than one sexual partner in the past year, are often associated with higher rates of sexually transmitted and blood-borne infections (STBBIs).3
References
1. Public Health Agency of Canada [Internet]. Ottawa (ON): Public Health Agency of Canada; [modified 2019 Mar 28]. Chronic disease risk factors [modified 2015 Apr 9; cited 2019 Apr 29]; [about 3 screens]. Available from: https://www.canada.ca/en/public-health/services/chronic-diseases/chronic-disease-risk-factors.html
2. Ontario Ministry of Health and Long-Term Care. Health equity guideline [Internet]. Toronto (ON): Queen's Printer for Ontario; 2018 [cited 2019 Feb 9]. 20 p. Available from: http://www.health.gov.on.ca/en/pro/programs/publichealth/oph_standards
3. HealthLinkBC. High-risk sexual behaviour [Internet]. 2018 [cited 2019 Sept 26]. Available from: https://www.healthlinkbc.ca/health-topics/tw9064
Last modified on: November 19, 2019