Figure 2.3.5: Poverty in selected sub-groups
Percent of population in low income households based on individual Market Basket Measure (MBM), Middlesex-London and Ontario, 2015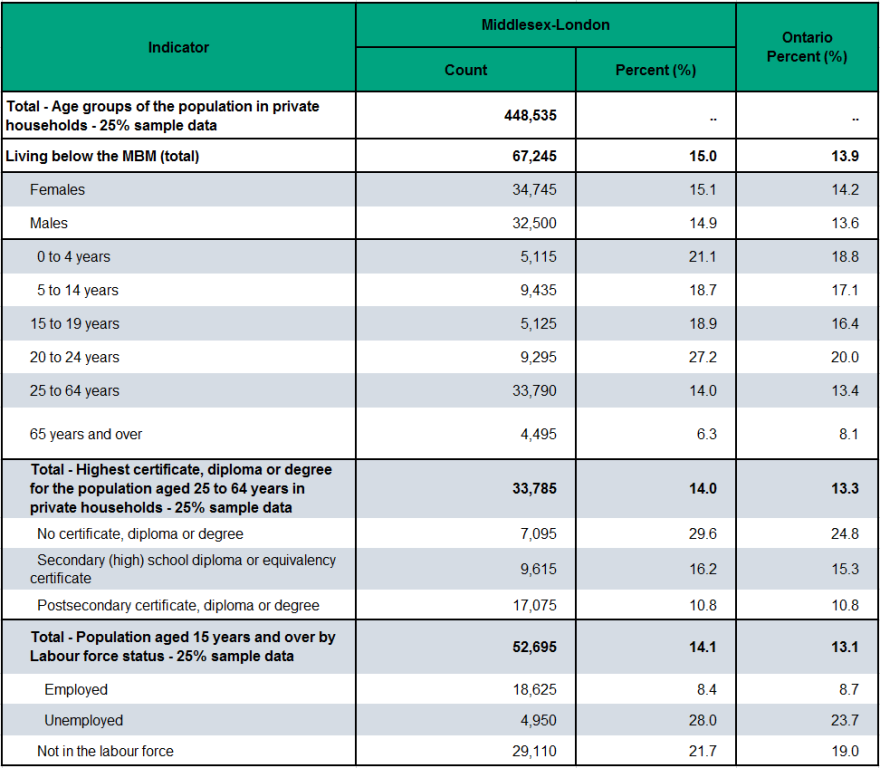 Source:
Statistics Canada, 2016 Census of Population, 25% sample, Community Data Program, Target group profile of the low-income population (MBM), Census, 2016. Last updated July 19, 2018. Date Extracted: Feb 21, 2019.
Note:
Data for this figure were obtained through the Canadian Council on Social Development's Community Data Program.
The percent of the population living below the poverty line based on the Market Basket Measure, Canada's new official poverty line, was 15.0% for Middlesex-London in 2015; higher compared to Ontario overall (13.9%).
A similar percent of females (15.1%) and males (14.9%) were living below the poverty line in Middlesex-London.
Those without postsecondary education (no secondary school certificate, 29.6%; secondary school diploma, 16.2%) were more likely than those with postsecondary education (10.8%) to be living in poverty.
Those aged 25 to 64 who were not in the labour force (21.7%) or who were unemployed (28.0%) were more likely to be living in poverty than those that were employed (8.4%).