Figure 2.3.6: Poverty by age group
Percent of population in low income households based on individual Market Basket Measure (MBM), Middlesex-London and Ontario, 2015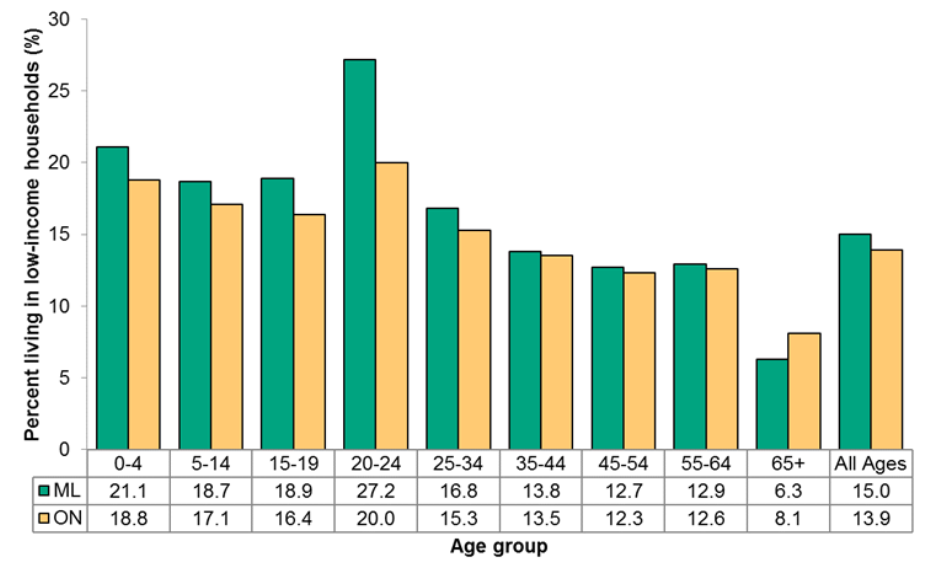 Source:
Statistics Canada, 2016 Census of Population, 25% sample, Community Data Program, Target group profile of the low-income population (MBM), Census, 2016. Last updated July 19, 2018. Date Extracted: Feb 21, 2019.
Note:
Data for this figure were obtained through the Canadian Council on Social Development's Community Data Program.
Younger age groups, particularly children aged 0 to 4 (21.1%) and young adults aged 20 to 24 (27.2%) were more likely to be below the poverty line than older age groups (e.g., adults aged 25 to 64; 14.0%).
While 6.3% of seniors aged 65 and older were living below the poverty line, generally, seniors in Middlesex-London were doing better than Ontario seniors (8.1%).