Figure 4.3.4: Emergency department visits related to falls
Age-standardized rates per 100,000 population, Middlesex-London, Ontario and Peer Group, 2005 to 2017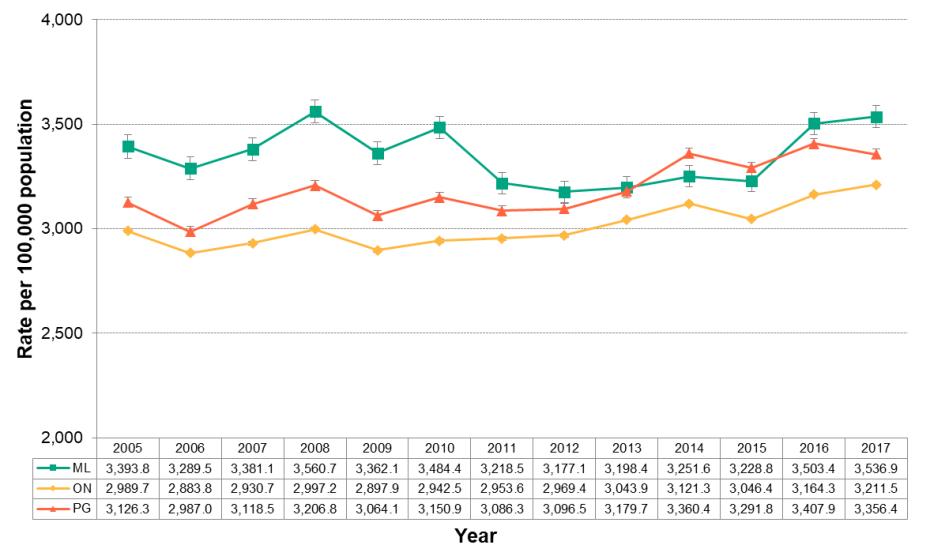 Source:
Public Health Ontario. Snapshots: Emergency department visits for injuries due to falls – age standardized rate (both sexes) 2005-2016 [Internet]. Toronto, ON: Queen's Printer for Ontario; [updated 2018 Mar 29; cited 2018 Nov 06]. Available from: https://www.publichealthontario.ca/en/DataAndAnalytics/Snapshots/Pages/Injury-ED-Visits.aspx; Ambulatory Emergency External Cause [2017], Ontario Ministry of Health and Long-Term Care, IntelliHEALTH ONTARIO, Date Extracted: May 22, 2018
The age-standardized rate of emergency department visits due to falls in Middlesex-London increased significantly between 2015 and 2017. All gains realized in the population with a reduction in falls visits after 2010 have since been lost.
The rate of ED visits due to falls in Middlesex-London is significantly higher than both the Peer Group and the provincial rate in recent years.
ED visits related to falls were higher in females and the rural population.