Figure 9.1.14: HIV/AIDS risk factors by sex
Percent of human immunodeficiency virus / acquired immune deficiency virus (HIV/AIDS) cases reporting leading 10 risk factors by sex, Middlesex-London, 2014 to 2018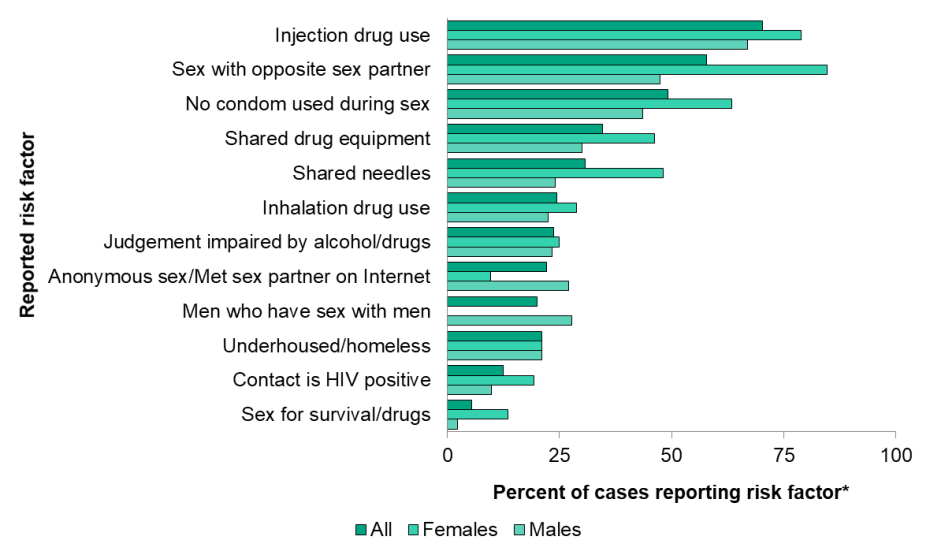 Source:
Ontario Ministry of Health and Long-Term Care, integrated Public Health Information System (iPHIS) database, extracted by Middlesex-London Health Unit [2019/05/09].
Note:
* Cases can report more than one risk factor. Denominator is the number of cases with risk factor information recorded.
In Middlesex-London, the most common risk factor reported by HIV/AIDS cases between 2014 and 2018 was injection drug use. Approximately one-third of cases reported sharing needles or other drug equipment. Anonymous sex and meeting sex partners on the Internet was an emerging risk factor reported by more than 20% of cases.
There were important differences in the risk factors reported by female and male HIV/AIDS cases. A greater proportion of females than males reported injection drug use as a risk factor. The proportion of female cases reporting sharing needles was double the proportion reported by males, and there was also a noticeable difference in the proportion of females who shared drug equipment compared to males. More than one-quarter of male cases reported engaging in anonymous sex or meeting partners on the Internet, compared to approximately 10% of female cases. Engaging in sex for survival or drugs was reported by more than 13% of female cases, while the proportion of males who reported this risk factor was low.