Figure 11.1.4: Folic acid use prior to and during pregnancy
Percent of women who gave birth, Middlesex-London, Ontario and Peer Group, 2013 to 2017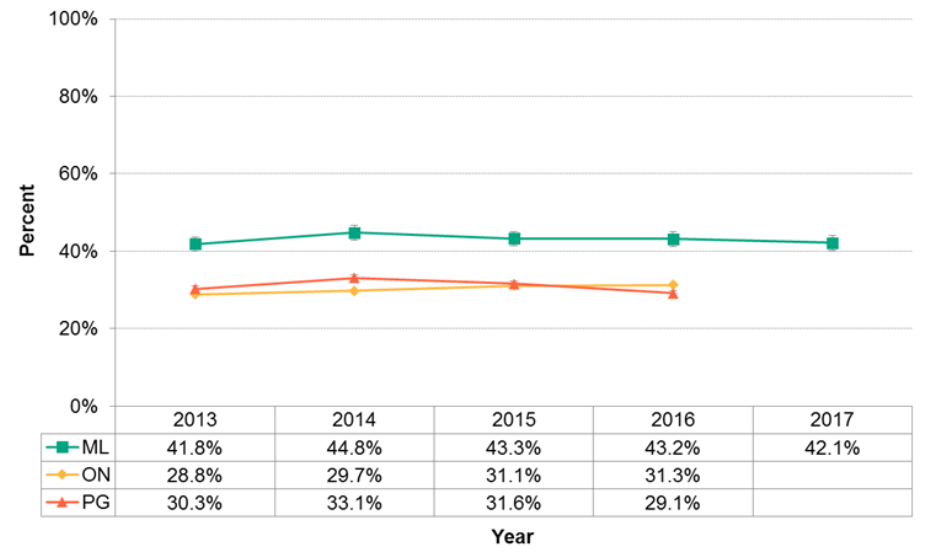 Source:
BORN Public Health Cube, BORN Information System, BORN Ontario. Information accessed on Oct 19, 2018. Ontario Agency for Health Protection and Promotion (Public Health Ontario). Snapshots: Maternal health Snapshot. Toronto, ON: Queen's Printer for Ontario; c2018 [updated 2018 Oct 12; cited 2018 Nov 14]. Available from: publichealthontario.ca/en/DataAndAnalytics/Snapshots/Pages/Maternal-health.aspx
Note:
Ontario and Peer Group data not yet available for 2017
The percent of women who reported taking folic acid supplements prior to and during pregnancy (excludes those who only took supplements prior to pregnancy) was also significantly higher in Middlesex-London compared to Ontario and the Peer Group from 2013 to 2016. In 2016, 43.2% of women in Middlesex-London who gave birth reported taking folic acid supplements compared to 31.3% in Ontario.