Figure 1.7.3: Immigrant status and period of immigration
Number and percent, Middlesex-London and Ontario, 2016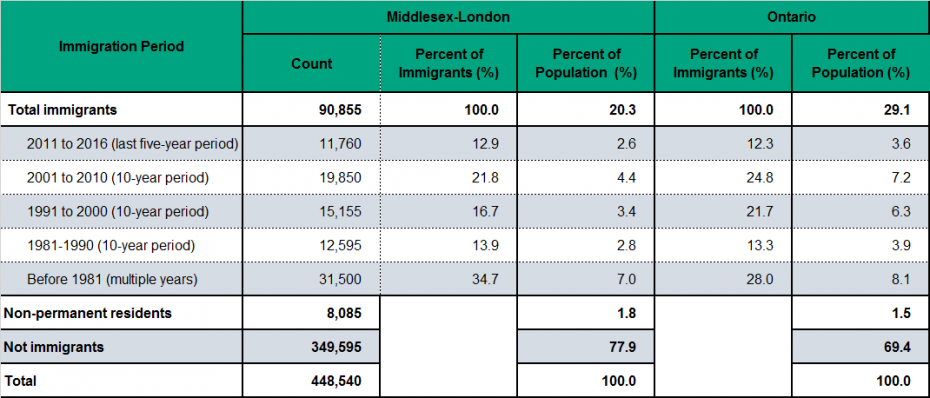 Source:
Statistics Canada, 2016 Census of Population, 25% sample
Note:
Period of immigration refers to the period in which the immigrant first obtained landed immigrant or permanent resident status. 'Immigrants' includes persons who are, or who have ever been, landed immigrants or permanent residents. Such persons have been granted the right to live in Canada permanently by immigration authorities. Immigrants who have obtained Canadian citizenship by naturalization are included in this category. In the 2016 Census of Population, 'Immigrants' includes immigrants who landed in Canada on or prior to May 10, 2016.
'Non-permanent residents' includes persons from another country who have a work or study permit or who are refugee claimants, and their family members sharing the same permit and living in Canada with them.
Immigrants in Middlesex-London made up 20.3% of the population in 2016, much lower compared to 29.1% in Ontario in 2016.
The percent of recent immigrants (those who arrived between 2011 to 2016) as a percent of all immigrants (12.9%) in Middlesex-London was similar compared to Ontario (12.3%). More immigrants in Middlesex-London reported coming to Canada in the previous five years than in any other five-year interval.
Almost two-thirds of immigrants in Middlesex-London have been in Canada for more than 15 years (65.3%) compared to 62.9% in Ontario.