Figure 1.1.1. Middlesex-London Health Unit boundaries
Municipalities, First Nations communities and neighbouring areas, 2018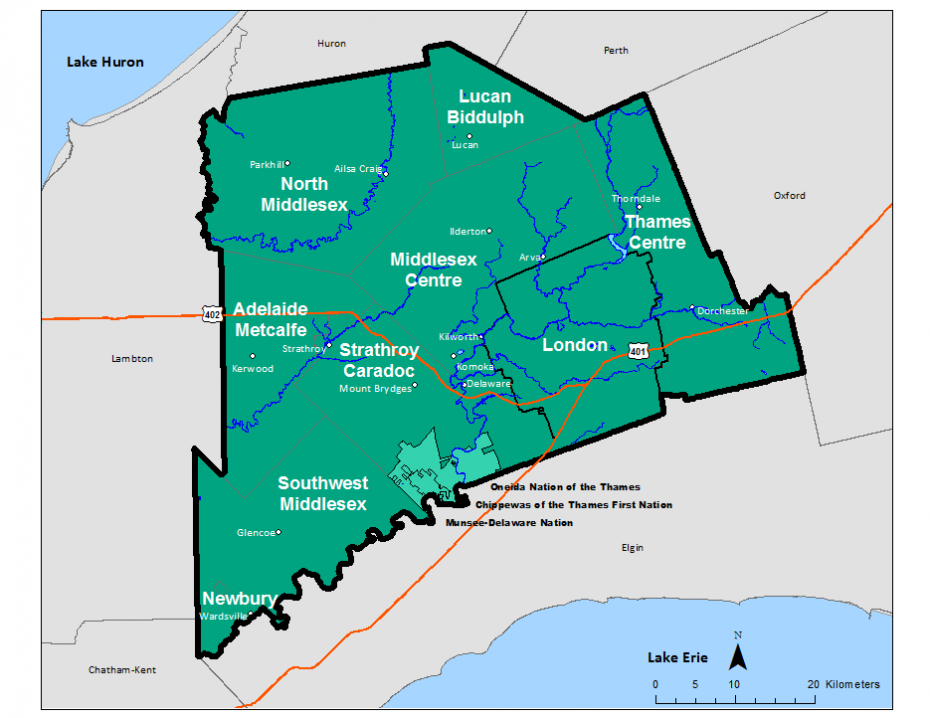 Source:
2016 Census Boundary Files, Statistics Canada
Note:
Traditional territories transcend municipal boundaries. Long before today, there have been the first peoples of Turtle Island who have been the stewards of this place. In particular, we acknowledge the traditional territory of the Anishinaabe, Haudenosaunee, Attawandaran (Neutral), and Wendat peoples. This area was originally governed by the Three Fires Confederacy consisting of the Odawa, Pottawatomi, and the Ojibway. This territory is covered by the Upper Canada Treaties.
The Middlesex-London region covers an area of 3,317 square kilometres.
The Middlesex-London Health Unit includes the City of London and Middlesex County (including the County's eight municipalities). 
There are three First Nations communities in close proximity to Middlesex-London: Chippewa of the Thames First Nation, Oneida Nation of the Thames and Munsee-Delaware Nation.