Figure 5.1.10: Exposed to second hand smoke in a vehicle or in an indoor public place
Percent of population (12+), Middlesex-London, Peer Group and Ontario, 2013/14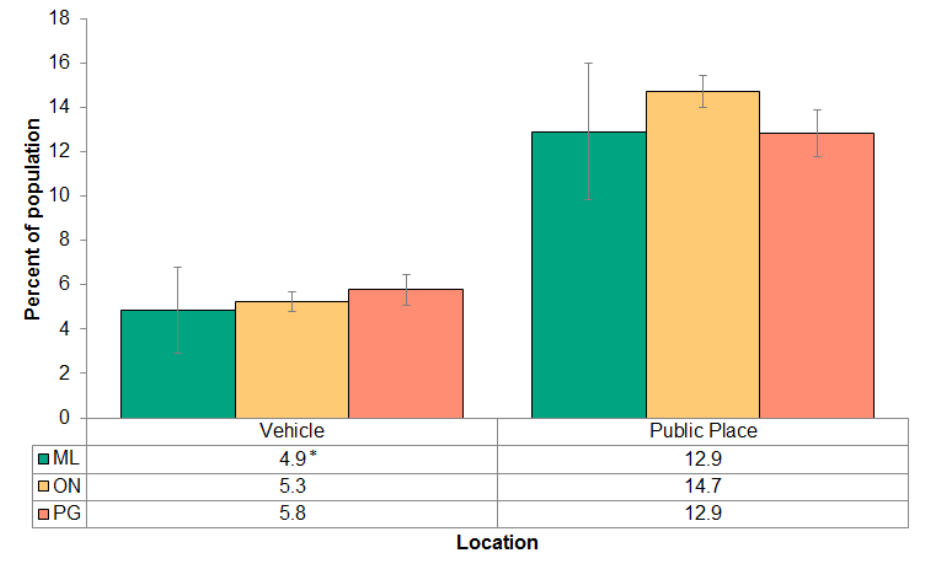 Source:
Canadian Community Health Survey [2013-2014], Statistics Canada, Share File, Ontario Ministry of Health and Long-Term Care
Note:
*Estimate should be interpreted with caution due to high variability
Almost 5% of people aged 12 and over in Middlesex-London reported being exposed to second-hand smoke in a vehicle in 2013/14.  This is a decrease compared to 2009/10, but not statistically significant (not shown).
Exposure to second-hand smoke in a public place such as bars, restaurants, shopping malls, arenas, bingo halls or bowling alleys was reported by 12.9% of the population in Middlesex-London.
When comparing exposure to second-hand smoke in vehicles or public places in Middlesex-London to the Peer Group and Ontario, no significant differences were found.