Figure 3.4.4. Leading causes of death in adults by age group, count, percent of deaths in age group
Middlesex-London, 2013 to 2015 annual average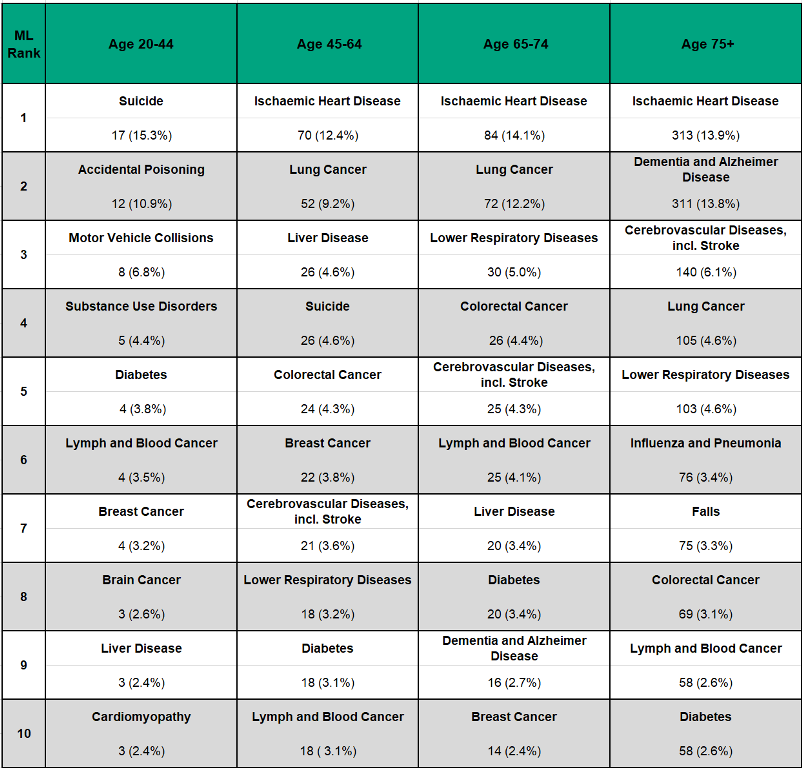 Source:
Ontario Mortality Data, Ontario Ministry of Health and Long-Term Care, IntelliHEALTH ONTARIO, Date Extracted: April 26, 2019
External causes of death such as suicide, poisoning, and motor vehicle collisions were the leading causes of death in young adults age 20-44. Substance use and disorders joined the top ten list in fourth place for those age 20-44. This was not on the top ten list in 2005 to 2007 for Middlesex-London and its presence is largely associated with the opioid crisis.
Chronic diseases such as ischaemic heart disease and cancers such as lung, colorectal, breast and lymph and blood cancer become more prevalent in middle age groups. Dementia and Alzheimer disease joins the leading causes of death in those 65-74 and becomes much more common in those age 75 and older. Unique leading causes also appear in those 75 and older such as influenza and pneumonia as well as falls.