Figure 10.1.6: School-based immunization program coverage
Up-to-date immunization coverage among 12-year old students for Ontario school-based immunization program, by disease, Middlesex-London and Ontario, 2016/17 school year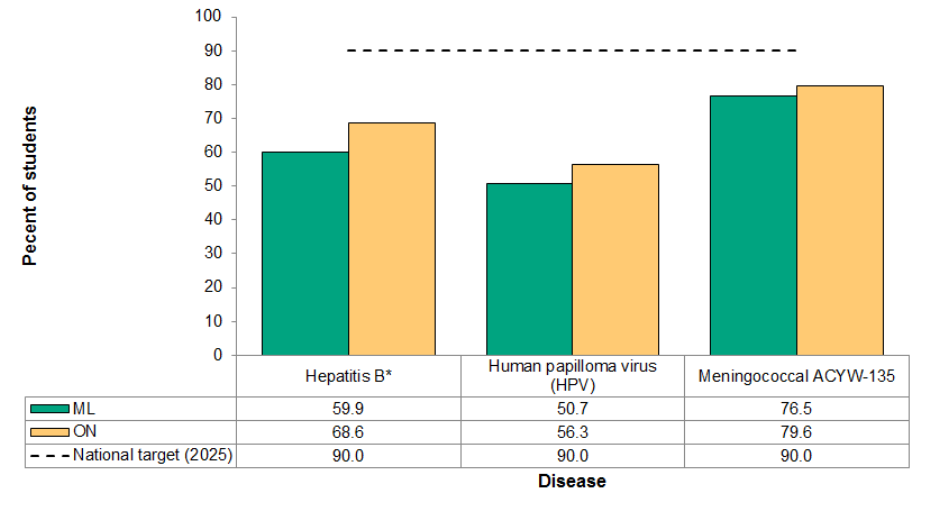 Source:
Ontario Agency for Health Protection and Promotion (Public Health Ontario). Immunization coverage report for school pupils in Ontario: 2016-17 school year [Internet]. Toronto, ON: Queens's Printer for Ontario; 2018 [cited 2019 Feb 12] 65p. Available from: https://www.publichealthontario.ca/-/media/documents/immunization-coverage-2016-17.pdf?la=en
Note:
* Up-to-date coverage assessment is for receipt of at least two doses of hepatitis B-containing vaccine, while the national target is for receipt of one dose.
In the 2016/17 school year, up-to-date immunization coverage among students in Middlesex-London schools was lower than coverage across the province as a whole for hepatitis B, HPV, and meningococcal ACYW-135.
Up-to-date coverage for all three vaccines was lower than the national target of 90% in the most recent school year.